This Giving Tuesday, Give the Gift of a Smile.
For many members of our West Virginia Bleeding Disorders Community, oral healthcare often gets put on the backburner. There are other health issues to worry about, too many bad experiences at the dentist, or it's just not affordable.
But isn't the smile of every one of our community members worth the effort? This is where YOU come in.
You can support the WVNHF Dental Program to make sure we all have access to affordable oral healthcare that is provided by dentists who have been trained to work with patients with bleeding disorders. Support the program here and learn more about it below.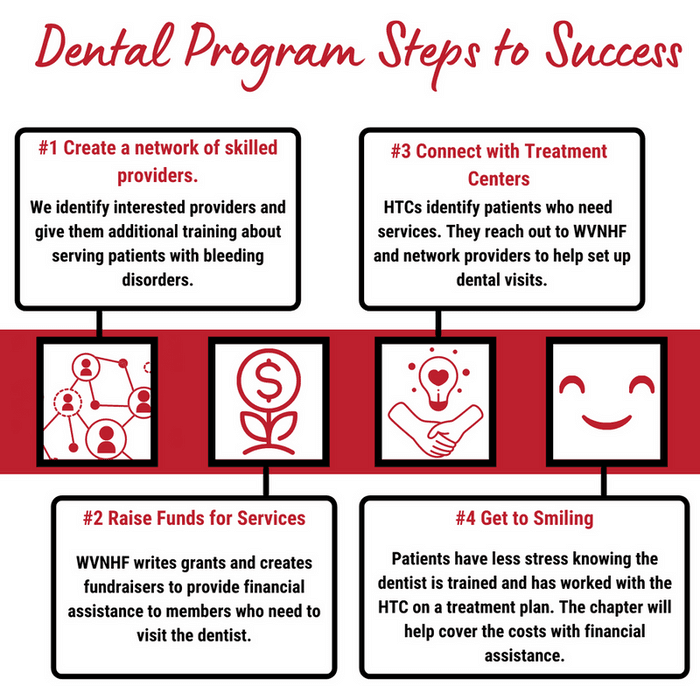 Where We Are Today
We've begun developing our network and training dentists, with help from the West Virginia Oral Health Coalition, CAMC and WVU HTCs, and Dr Rebecca Schaffer, a member of the World Federation of Hemophilia's Dental Committee.
We have received funds to develop this program, but not much for actual services yet. We need your support to grow this program statewide!

Your Support Can Make a Difference!
Ways You Can Help Right Now
1.      Spread the word: Forward this page to others that might support the program. You never know unless you ask!
2.      Click here to give a gift or share the fundraiser on social media. Remember every little bit counts towards the goal.
Resources
Check out tips and create a plan to keep your teeth healthy.

This is a guide for how to protect the teeth of a child affected by a bleeding disorder.

This is a great resource for people with bleeding disorders to fill out and give to their dentist before a procedure.
Continued Education for Providers
Dr. Rebecca Schaffer of the World Federation of Hemophilia (WFH) Dental Committee provides continuing education for oral healthcare providers interested in learning more about working with patients affected by bleeding disorders. Watch the video here.